First holiday as a couple
Last Update : November 24, 2016
You are in love and dreaming of just one thing: spending the maximum amount of time with your new sweetheart! Holidays are clearly the best time to discover each other: you have plenty of free time, there should be no arguments or work-related hassles to worry about and no stressful daily routines. To sum it up: in a partnered relationship, holidays are the time when we discover, charm and find out about each other. So, for your first holiday to become a precious memory later in life, here is some advice to keep in mind – even if your holiday is designed for relaxation purposes, organising a first trip for two will definitely bring up a few interesting situations…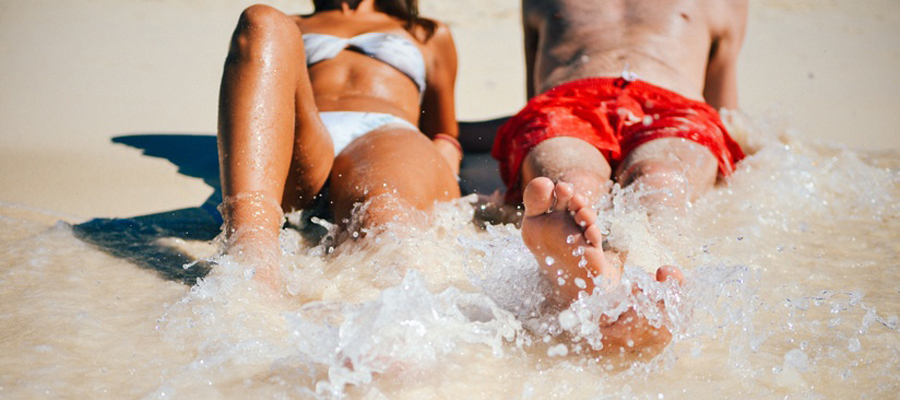 Don't be too demanding with your partner
You really want to get the most out of this first trip together, to the point where you might even put too much pressure on yourself; bear in mind that you don't yet know what your partner really wants whilst on holiday. Maybe he prefers lounging at the side of the pool while you want to explore the town on foot, or he wants to have a lie in while she is looking forward to getting up at the crack of dawn and head off hiking.
It's quite normal to have different points of view or expectations of your vacation, but this should not lead to recurring arguments where you're accused of thinking only about yourself. Of course, the first holiday as a pair is the opportunity to discover each other and to have fun. Therefore, it's about compromising so that each of you is content with the trip (and not having a go at each other for being selfish).
Keep your expectations realistic
You may have been imagining that idyllic place of your dreams for weeks, but try to keep your feet on the ground as every ideal is subjective… The candlelit dinner, bare feet on the sand, the cruise or champagne at sunset or sleeping late to the sound of the waves: it's all possible, on the proviso that you discuss it with your partner. Sure, it's more magical when it's spontaneous but unfortunately, that won't happen just by chance.
Romance is not just one thing – it's a package: an ambiance, a way of speaking, capturing a moment for both of you and striving to please each other. The first holiday as a couple is a special time to really get to know each other. On the other hand, many people have a tendency to expect too much of their partner, which creates feelings of suffocation and, consequently, of exclusion.
Have fun as a couple
For the romance to last the duration of your stay, the ideal partner will take care of their loved one through little displays of affection every day. Preparing breakfast to be eaten in the sun, offering to rub sun cream on your partner, suggesting a walk along the beach, etc. Effectively, if you don't take any initiative during your first holiday together, you will leave a lingering doubt in your partner's mind about your dedication to life as a couple. To turn a simple trip into a delightful romantic escape, it's enough to share a few loving words, some ideas for activities that you can share and to have the flexibility to go with the flow, even in the face of something completely unexpected.
The first holiday as a couple is essential for the rest of your relationship. We recommend that you take the time to find out about your partner: what they want and desire out of life, what motivates them, etc. And to take advantage of these restful moments to get to know each other better! The memories of this holiday will stay with you for a long time, don't underestimate the importance of this first trip.
Happy holidays!
Learn more about "Couple & Relationship"