Running in the search of love
Last Update : November 25, 2016
Running has become one of the trendiest sports. A free exercise that also allows you to discover (or rediscover) your neighborhood and your city, while enjoying fresh air. Several apps have been developed in the last years, but even more interestingly, running is becoming a great way to seduce through sport. You can meet new people, you can set dates for running, find new partners, be part of a group or use running as an excuse to get to know possible dates ! Running in the search of love is a great way to get all your muscles activated, heart included !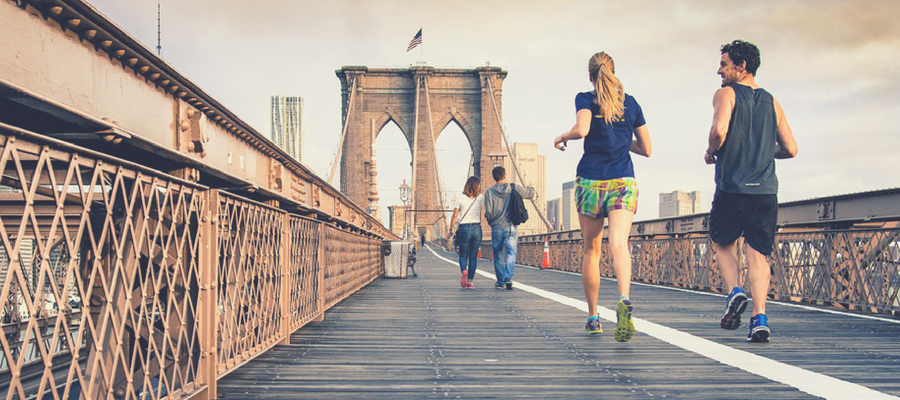 Singles running together : the dos and don't's for a great date
Being single can be nowadays synonym of a world of excitement and adventures. A new daily life that you can adapt to fit dates and activities during the week. Running as such, is a great example. On one side, running has a vast list of health benefits. As the old saying « exercise is medicine » , running is a great ally to fight heart disease, diabetes, high blood pressure, obesity, strokes and even some cancers. Together with that, running helps to boost your emotional life by making you happier by protecting you against depression and anxiety. On the physical side, running is a great way to strengthens your knees and joints and overall to get fit. It is a sport that you can do anywhere, it gill boost your mood and give you the opportunity to continue the date with a coffee ? It is always very important to wear comfortable clothes, after all the main aim of your date is to share your common interest : sport and running. Therefore, dressing comfortably is one of the requirements to enjoy a nice date. Keeping the clothing simple and modest is the first recommendation.
Another common worry between runners in the search for love is the concern regarding sweat. Not only sweat is expected when doing sports, but it can also boost the attractiveness of people. Having said that, deodorant must not be forgotten. As an additional tip, do not try to hide possible smells with an overload of perfumes of colognes. Perspiration tends to amplify scents !
Normal dates tend to evolve around the sight, the staring : looking at each other's eyes to try to spark the flame of love. When running don't urge making eye contact as it could cause falls and moments of pain and embarrassment.
Asking for a running date
Asking for a running date is basically killing two birds with one stone. You will still enjoy the benefits of the sport whilst developing stronger bonds with a partner. Perhaps you are a bit shy and you have always found quite difficult to ask out on a date ? Dating and running is an easy way of starting to develop romantic feelings, of starting to flirt and mostly of starting to meet each other. Running dates are the new black and more and more singles and starting to discover the great advantages of the modern practice. The lack of formality, of dress code and of awkward moments (as if there's silence it's OK as your are running) create the perfect mix for a relaxed and intimate experience. An exciting and powerful way of sharing each other's interests, of talking about your passions and preferences and a flirty way of discovering commonalities. Running is also a great way to boost your dopamine and share that feeling of satisfaction together. A feeling very similar to when engaging in physical romance. If you are looking to meet up with other singles, get to know them and share experiences together, you have found your activity. Even if you are a beginner in the art of running, or you are already familiar with the practice, all you will need is comfortable clothes, lots of motivation and you willingness to start the race towards love : who knows what you'll find at the finish line ?
Learn more about "Seducing with Sports"