#6-How To… Break the Ice when Dating Online
Last Update : May 29, 2019 by Noah
You've done your profile, added a profile picture and you're ready to start your online dating experience!
You start to peruse profiles, you read some nice description and then suddenly you see a great profile that you really like !…but how to break the ice?
Follow our mini-guide to learn all the tips you need to break the ice and start chatting to interesting users!
Don't worry, you'll find here the best tips to succeed in your first conversation!
The Best opening lines, best topics by age, etc. Make the best of your Dating experience!
Tips to successfully break the ice when dating online
Before starting there are a couple of things you should consider:
Make sure both profiles match
Although it might seem like an obvious one, many people tend to use lots of time trying to get in touch with as many profiles as possible. The problem is if you don't check if you actually seem to match the odds of you getting along and having a meaningful conversation might not be great…
Think about what you have in common
That's why, it's very important to first check if your profiles seem to match, and then to check and think about what are the things that you both seem to have in common. It is definitely the best way to think about possible conversations you could have.
#Step 1 – The opening line
As we said, before engaging in a conversation, do your homework!
What does that mean?
It means to read your match's profile…in depth. What seem to be her/his interests?
According to a Huffington post research, here's a very interesting list of the topics that seem to be more adequate and successful according to a specific age range:
18-23 years old: Novelty subjects
24-28 years old: Lifestyle
29-34 years old: Personal
35+: Pop culture
Alright, now that you have a clearer idea of the topics that seem to work, what should be the tone of your message?
Check it out, here are some different types of texts and how they seem to work… keep it in mind!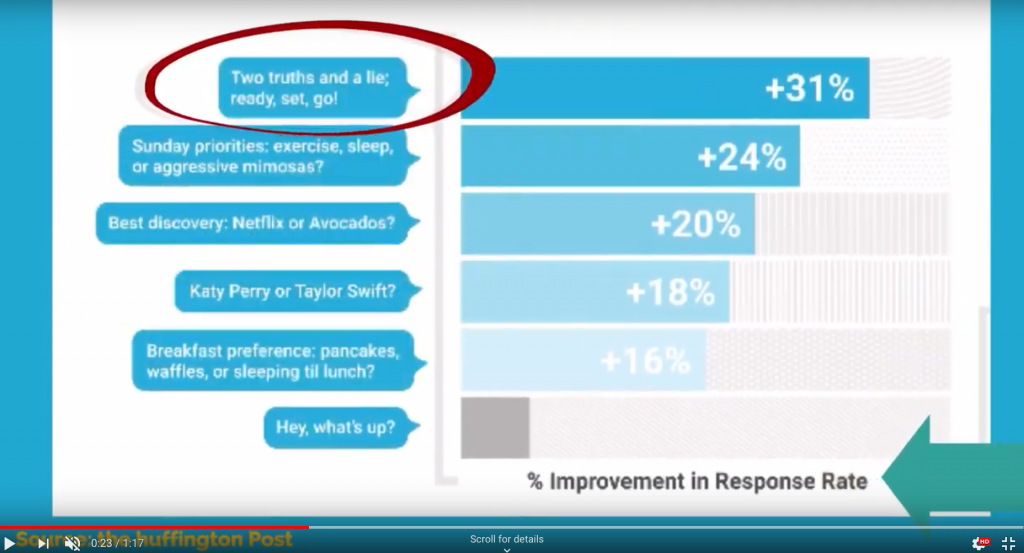 #Step 2- Men versus women
Do men respond the same as women?
Let's see…
It seems that men are 98% more likely to respond to an assertive message such as "free this week" or "beers soon?"
While women are 40% more likely to respond to a message about food " What do you prefer? Tiramisú or games of thrones?
#Step 3 – When should you reply?
Our main tip is the following:
If you don't message within 6 hours, the likelihood she'll respond will drop by 5% for women and by 25% for men.
So now that you have lots of tips and tricks to break the ice, keep in mind to always be proactive and to keep an eye on your spellcheck.
Typos and giving too much information is never too attractive at first!
Good luck!